Happy Monday, y'all! I hope everyone in the path of hurricane destruction fared well and made it through unscathed! It's time to get into some miscellaneous stuff, since it's Monday, and I am lucky I remember how to type, let alone make a coherent post! :)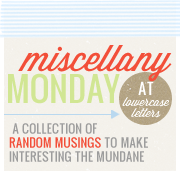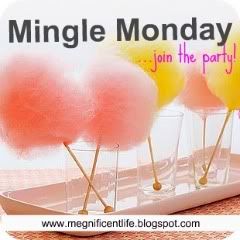 I survived the hurricane. My roommate's sister lives in the area, and apparently they decided that she was going to spend the weekend at our apartment. When did I find this out? Friday night when both of them arrived at the apartment, and an air mattress was dumped into the living room. When I got up to shower for the night, I lost all control of the living room (and apparently any right to be in there) because it was then taken over with comforters, pillows and snack foods, along with their bodies sprawled out across my couches. So....there went any chance of me catching up on DVR (until yesterday morning). Or being outside of my room. Not super happy with how inconsiderate it was (and the fact that I wasn't even given a heads up). And, since I hate confrontation, I'm not really sure how to bring it up to her.
Oh yes, that IS a Hello Kitty machine....Don't judge me.
I've decided that I want to learn how to sew. This has been something that I've wanted to learn for a long time. When I was younger and got a hole in something, my mom always knew how to patch it up or fix it. I feel bad for my future children because I am incredibly inept at this type of thing. So, I figured what the heck? I think I found the perfect machine to start off, and thanks to Pinterest, I am even more motivated to try a couple of projects. I haven't ordered the sewing machine yet, but I am thinking I might do that this week.
Random hottie I met at my friend's bachelorette party last weekend has continued to text me, and this weekend he called me several times. I really enjoyed talking to him. Figures the dude is in California. Which makes it insanely hard to have make out sessions. Dang it. But, I can continue to look at his hotness. And drool.
I went out on a date with a guy from match last night. He was nice and we had a really good time. He is leaving for a week to Germany (he's taking his dad for his birthday--how sweet?) but we made plans to hang out on Wednesday when he gets back which I'm looking forward to. I have some details to share about this date, but I am debating if I should share yet or not. So I think I'll hold off (don't worry, it's nothing dirty).
And now, it's back to work, because no damage was done to the school building (is it bad that I'm a little bummed about that part?). Off to educate some kiddos! Hope you all have great starts to the week!