Instead of writing up some confessions this week, I thought I'd switch back to my letters, to tidy up this week!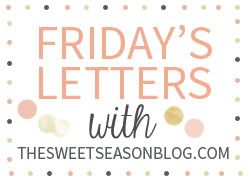 Dear Puerto Rico,

thanks goodness we'll be seeing you this weekend, and get to enjoy you for a whole week! After this week, I'm looking forward to your warm, sunny weather and relaxation more than ever.
Dear Mom and Dad,

you guys are the absolute BEST! Overall, and because you bought me a Dyson for no reason other than because you wanted me to have something nice and of good quality. Not only that, my mom drove all the way to Virginia to pick up the Dyson, and dropped it off at my place so that when I got home on Wednesday, I had a nice new Dyson waiting for me!
Dear JT,
you are one sexy beast. Digging your CD, even though it's much different than your past stuff. You're too sexy for your own good. That is all.
Dear Downton Abbey,

I finished season 2, and I didn't cry (altho there were several "Oh my God"s and "Noooooo"s yelled). This is an accomplishment, and apparently one that I won't be able to maintain when I watch season 3. Drats! I love this show too much.
Dear Lulu's,

I kick myself now for not paying the extra $12 shipping so that my high-low dress would get here before my trip. I should have known when it said Friday-Monday delivery, it would for sure be delivered on Monday, just like your tracking tells me now. Poopsicle! I ordered you on the 14th...why couldn't you have gotten here by the 23rd? Not so much to ask! At least I have other cute dresses and my new wedges to rock, but still. Total bummer!
Dear Brooke Burke,

your exercise DVD's make me sore EVERY time I do them. I'm glad I'm working on stuff that obviously needs working on. But, walking like a duck for the next 2 days because my legs are so sore that it's painful to walk, is really not that attractive. And, seriously, lady, how does your body look so banging after 4 kids?? I'm in awe....even as I waddle like a duck.
Dear Blog friends,
I'll be back in a week (hopefully tanned, gorgeous and happy), but make sure you come by during the week because I have some wonderful ladies guest-posting while I'm away.
Have a happy weekend!