Since you've seen the dress that I DID choose...I thought it would be fun to stroll through memory lane and look at the dresses that I didn't choose!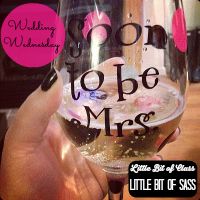 Be forewarned, this one is picture-heavy, but it's fun so it's worth it :)
I started out at David's Bridal since it has a HUGE selection of dresses and I didn't fully know what I wanted. Perfect place to start!
This was the first wedding dress that I tried on. I remember shaking a little bit when I looked at myself in the mirror
It was a good starting point, but not what I was looking for.
The next dress was alright, but it had a weird beading that looked like an arrow pointing at my lady parts:
The next dress is what my friends and I simply dubbed "dress #3"...who puts beading on the butt of a wedding dress (or ANY dress)? It looked like my dress ripped and I had on beaded under-roos. Just, no....
This one I felt as though I had spiderwebs all over my dress. Perhaps if I was getting married during Halloween, but....no....
This dress I actually loooooved the buttons down the back and the silhouette, but I wasn't in love with the satin and it was more plain than I was looking for.
I tried on this dress with shoulders. I realized that I didn't really want shoulders, but that I didn't mind lace....
I could totally have seen wearing a dress like this for a beach wedding. Plus, I wanted more of a train on my dress than this one offered.
All of my friends, including myself, did not think that we would like this dress when we saw it on the hanger, but once it was on, we were all really surprised at how good it looked off the hanger. It was definitely more of the shape I was looking for, too!
This dress was a little plain before they added the belt, which helped, but I didn't like how the fabric around the boob-al region looked up close (which I dont have a picture of, so you'll just have to take my word for it):
By the time I was done at David's, this dress was my favorite pick, but there was something about the way the top laid across my chest that I didn't love (and the seamstress there said there wasn't a lot that they could do to make it better), so I wasn't sure...
I tried on the same dress in Philly a couple weekends later, so that MG's sisters and mom could see, with a different belt, and I liked the dress better--the top laid much nicer than the other one I'd tried on (which actually worried me about what I'd end up with if I ordered the dress, since it could be so different between stores)....
don't mind the silly nieces in the background lol
After David's Bridal, we went to a boutique nearby that had dresses from different designers. (My mom was actually the one who saw the dress I ended up picking, which is one of the many reasons that I love my dress.) Once I tried on the Casablanca dresses, I knew why the other dresses just hadn't "done" it for me and that I had found the designer that I loved right away.
The dress I picked is a Casablanca dress, but, before I said "yes" to the dress, my mom wanted me to try on some other dresses, just to be sure. So I found another boutique that was closer to my condo and had Casablanca dresses to try on since I knew these were more the style, material and quality that I liked.
I realized, once again, that satin just wasn't for me:
This dress wound up being a VERY close second to the dress that I ended up picking:
But, in the end, I'm still SO happy that I went with my original instinct. It had beading, and lace, I got the bottom to the dress that I wanted (it was originally A-line and I got the bottom from another dress that was fit and flare), and a natural beaded belt-line.
This was my dress originally, with the a-line bottom
The dress that made me feel absolutely beautiful, made my friends/bridesmaids get choked up when I tried it on, and had MG speechless when he saw me on the wedding day: