We've got another snow day here in the DC area--it's not a lot of snow, but the timing of it all is what caused schools to close I think. What do I know? I don't have to go out in it, and that's 100% ok with me!
Anyway,
here's a random hodge-podge of thoughts this Thursday: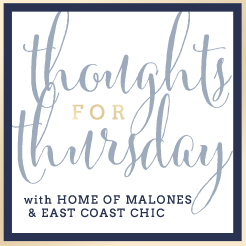 ~It kinda totally sickens me how much money the celebs get in their swag bags from the Oscars (and other awards shows). Why are you getting swag? You're at a party that someone else is paying for, wearing expensive gowns and clothes that you don't have to pay for, attending parties for free....so I guess you need $167K worth of freebies, too?
~Why do people judge other people for what they do after they get married (or in general)? If you want to write a blog post, do it! If you want to update your status on Facebook, do it! Why is changing your name or marital status on facebook the day after your wedding a bad thing? How does that affect someone else enough to comment on? (Answer: it doesn't.) And why is it worth someone else's judgement? (Answer: it's not.)
~I wish I spoke Spanish fluently. I can speak enough to get by...kinda...but speaking fluently would totally help me out, especially at work sometimes.
~It bugs me that every boot that I try on seems to be for wide-calves. I appreciate that boot makers are making things for everyone to access, but even the "regular" sizes seem to be huge on my calves, or just leave a big gap. Skinny calf probs I guess?
~Chris Soules spent a LOT of time telling Kaitlyn about how HE was nervous and how HE was feeling when he was saying good bye to her. All while she's trying to hold it together after getting dumped. Good job on making it all about you, friend...
~Also, telling a girl you just dumped that there's "no right decision" doesn't make her feel better about things.
~My friend posted a picture on my facebook feed that was a bunch of bananas made into dolphins. I love dolphins and I despise bananas. I simultaneously loved and hated that picture. But I give it a 10 for creativity. Minus 1 for the bananas.
~Speaking of bananas, if you ever try and make me eat them, this will be my reaction:
~How awesome would it be to have this job?
I'll leave off on my random thoughts for now--maybe Ill go think up some nail polish names! Hope you enjoyed the mish-mash of "thoughts" today ;)