It's a rainy Tuesday here in the D-Cizzle, but it comes after the MOST beautiful 80 degree, sunshiny, no-humidity day. So, I can't complain too much. Hoping it's a sign of warmer, Springier weather to come!!
Today I'm linking up with the Undomestic Momma for Top 2 Tuesday!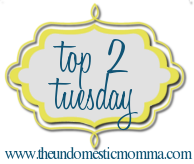 My top 2 songs on my iPod are:
1) Michael Franti's Say Hey (I love you). I love love love this song. From the first time I heard it til now, I can not help myself but bounce around when I hear this song. This also lends itself to much entertainment for my boyfriend when he's around and the song plays (sometimes I think he plays it on purpose just to watch me bounce around like a little kid). This one always puts me in a good mood.
2)Timbaland's Morning After Dark. This is one I can play and dance to, work out to, or just sit back and chill with. I love the beat, I love the music. Big ups to Timbaland (oh geez, did I really just write that?? haha). I love him, and his music.
http://www.youtube.com/watch?v=25LBTSUEU0A
If you haven't heard either of these songs (uh, where have you been living?? hehe jk), you should definitely check them out. Perfect on a rainy day, like today!
Hope you all are having happier weather than we are here!