Hey all!
It's been a while since I've posted due to the long weekend and not being anywhere near my computer the entire time (which was not really a bad thing). Today I'm linking up with CMae at
Happiness is...
for Tail Wagging Tuesday!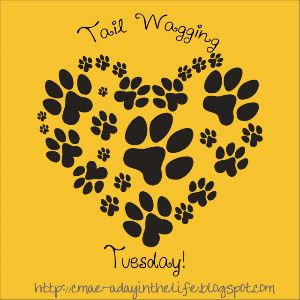 This weekend was spent doing all kinds of things, one of which entailed going to Eastern Market in D.C. on Sunday with MP to enjoy the weather and peruse all of the neat things there. We ended up finding a bistro set that was perfect for MP's sunroom (which, until now, had only a chaise chair in it). The guy selling the bistro set threw in this really cute plant stand....which MP and I turned into Cooper's new bicycle and took a shameful amount of pictures of him on it. If only you could see, his tail was wagging the whole time, I promise!!
(You like how we tried to put a toy up there to bribe him to stay long enough for us to take the picture?? hehe)
(You can see part of the bistro set in the background....you know, if you care about that part of this post haha)
Other than that, Cooper has been spending much of his summer being lazy and sleeping on any blanket, couch, person or equally soft surface possible!
Hope you all had great weekends!!