Hey all! Hope you had good weekends. Mine was kinda so-so, but the good part was that I got to spend time with my mom (and dad) for mother's day this weekend, which was really nice--and I know she appreciated it too :)
Since today is starting out to be kind of a blah day, I figured I would post something a little more light-hearted to get my spirits (and any of yours that need it) in a little better of a mood! (And participate in Mingle Monday over at Life of Meg: )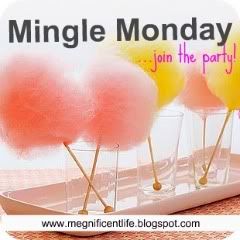 First things first, I have a new use for an everyday item. Do you ever carry pills (tylenol, midol, etc) in your purse/bag etc but don't want to take the whole bottle with you everywhere you go? I have a new solution for you! Use an old (or new) contact lens case to store about 8-10 pills for easy on-the-go headache relief!
Ta-da!!!
This was my relief this morning with pollen counts high, and sinus headaches abounding!
And, on another fun note, I'm wearing the outfit that I got from New York and Company today. It's putting me in better spirits and I've already gotten several compliments at work about it! Yay for being trendy and cute!!
My shirt/tank courtesy of New York and Co.

White linen pants, also c/o New York and Co!
Feeling like you're cute on a day where you're less than 100% kinda makes up for what you're lacking. At least, that's what I'm hoping for as the day goes on! :)
Hope you all have a great start to the week!