Hey party people! It's Thursday, which means ONE more day til the weekend. Can you taste it???
I saw the topic for the Fabulous Valentine Challenge on Amber's page at Brunch with Amber and I couldn't help but resist to link up for this one. Today's theme is:
Love Weddings - Share your wedding photos, your friends or families, or your pinterest inspiration!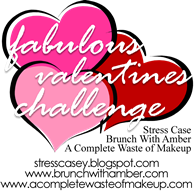 I'm obviously not married, but that has not stopped my from having some ideas about what I'd like that day to look and be like. And it also hasn't stopped me from putting some cute ideas onto a wedding board on pinterest as I stumble across them on my daily pinning expeditions! So I'll share those little finds with you today!
I would love a dress like this...simple but classy and a little romantic
I think a hairstyle similar to this would be cute...maybe not the rose
I love both of these cakes (the colors on this one would
HAVE to include purple tho haha)
I basically love the purple and the cool gold-ish tint to the cake!
This is something I saw the other day and thought would be super cute if MG and I ever get married. It's a wedding cake topper, and since he's from Philly, it would be totally appropriate! (Or could even be used as decoration elsewhere, like on the sign-in table)
The feel of this is so romantic and pretty
I would have guests sign on this or do the fingerprint tree to frame later...
Add some fun things to take ...
And get some good advice from friends and loved ones!
There would obviously be some purple going on in my wedding, but not entirely sure what I would like my bridesmaids to wear. Luckily, I still have time...and will, one day, have someone else by my side to help me make these decisions :) In the meantime, I can continue to dream...and pin! :)